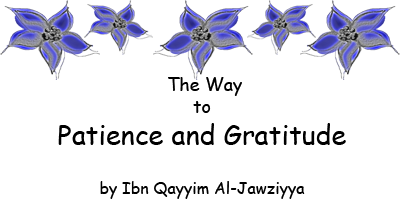 CHAPTER ELEVEN
The Difference Between the Patience of Noble and Ignoble People
Everybody has to be patient in facing difficulties whether voluntary or by compulsion. The patience of noble people is voluntary because they believe in the benefits of patience and they know that they will be rewarded for it. They also know that they will be criticized if they panic. They know that if they panic, this will not regain what they have missed and will not prevent what they dislike. There is no one who can prevent what is destined to happen. So, the harm of panic is more than its usefulness. A wise man said: "When anything bad happens to a wise man, he does what a foolish man does after one month."
The patience of ignoble people is compulsory. Firstly, they panic and when they realize it is useless, then, they become patient as those who are tied up to be beaten.
The noble person practices patience in obeying Allah. On the other hand, the ignoble one practices it in obeying Satan. The ignoble people are the most patient in following their desires and the noble ones are so but in obeying their Lord. They endure difficulties for their desires but cannot face even a small difficulty for their Lord. They avoid enjoining the good and forbidding the evil because of the fear of what others will say about them.
Those people will never be noble in the sight of Allah, and on the Day of Judgement, they will not be raised with noble people. This is only for people who deserve nobility and fear Allah on that Day.

Click
Here
to go to Chapter Twelve.