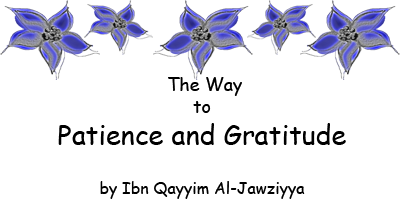 CHAPTER FOURTEEN
The Hardest Form of Patience
There are two factors that influence the degree of difficulty in patience. Firstly is the degree of motivation when man wants to do something and secondly, how convenient is the intended action for man. If both factors exist, patience reaches its utmost difficulty and vice versa. While if one of the two factors disappears, it becomes difficult on one hand and considerably convenient on the other.
Thus, if man has no motive to kill, steal, drink wine, or commit atrocities, and these actions are inconvenient for him, then he is able to ward them off easily. Whereas a man whose desires are powerful and finds it convenient to act accordingly, then he is hardly able to show constant perseverance. Hence, the ruler who abstains from injustice, the young man from indecency and the rich from worldly pleasures, command the highest status before Allah. (1)
These categories rightly deserve Allah's protection on the Day of Judgment so long as they bear hardships patiently. Therefore, the adulterous old man, the untruthful ruler and the haughty poor are severely punished because it would be more convenient for them to overcome such unlawful desires. Consequently, giving up patience in such situations sheds light on their insolence and rebellion against Allah.
It requires constant perseverance to keep away from sins of the tongue and unchastity because their motives are powerful and easily accessible. Unfortunately, sins of the tongue provide delight for man, such as slander, telling lies, dispute, direct or indirect self –complacency, reporting people's utterances, defaming enemies and praising his votaries. On the authority of Mu'adh Ibn Jabal (may Allah be pleased with him) that the prophet (pbuh) said,
"Keep control over your tongue." Mu'adh wondered, "Are we held accountable for our utterances?" The Messenger said, "People are thrown down on their noses in the Hell-fire only by the harvest of their tongues."
This is true especially when offences of the tongue turn into a habit, thus becoming almost impossible to overcome.
You may find a man who prays at night, fast during the daytime and refrains from resting on a silky pillow even for a single moment, but he likes to indulge in disparaging remarks about others. He may even cast aspersions about the righteous people who are sincere to Allah and their religion, without knowing exactly what he is speaking about.
Therefore there are many who abstain from the slightest unlawful thing, even a drop of wine, but they cannot avoid adultery. 'Abdullah Ibn 'Umar (may Allah be pleased with them both) was asked about the blood of the mosquito. He said: "Behold, these men ask me about the blood of the mosquito while they have killed the son of the Prophet's daughter (pbuh)."
Hardship in patience, in respect of sins and their varieties, differs according to the strength and weakness of what motivates them respectively.
Imam 'Ali (may Allah be pleased with him) said, "Patience is of three categories, namely:
a) To bear adversity with perseverance,
b) To perform obedience with constancy, and
c) To ward off rebellion patiently."
A man, who endures an adversity calmly until Allah gives him relief, will receive 300 good deeds as his reward. A man who performs acts of obedience as Divinely prescribed receives 600, while he who keeps away from rebellion receives 900.
Maimun Ibn Mahran (may Allah be pleased with him) said, "Patience is of two types, namely:
a)To bear adversity calmly which is commendable, and
b) To ward off disobedience is much better."
_________________________________________________________________________
1. On the authority of Abu Hurairah, the Prophet (pbuh) said, even are those whom Allah will place under His protection on a Day when there will be no protection but His, namely:
"The just ruler; the young man who is brought up in worship of his Lord; a man whose heart is constantly attached to Mosques; two men who love one another for Allah's sake, He alone brings them together and separates them; a man who, summoned by a beautiful woman, says: 'I fear Allah'; a man who gives charity so much secretly that his left hand does not know what his right hand has given, and a man who, remembering Allah in seclusion, and then sheds tears."