Islam is built upon five things (commonly called: The Five Pillars of Islam) :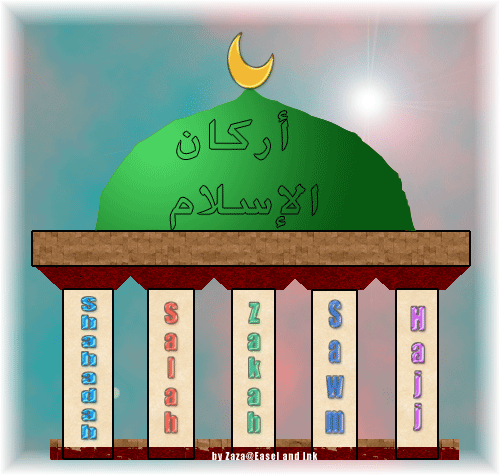 1) Shahadah testifying there is no god save Allah and that Muhammad is His Messenger;
2) On performing Salat;
3) On giving the Zakah;
4) On sawm, fasting during Ramadan and,
5) On Hajj to the Kabah .
N.B: Opinions differ as to when Hajj became obligatory but the commonly accepted opinion is that it was in the eighth year of Hijra that Allah declared it as one of the five fundamentals of islam. In the ninth year of Hijra the Holy Prophet (may peace be upon him) sent Abu Bakr as the leader of the Hajj delegation but he himself did not go.
(
part of a narration from Jabir bin 'Abdullah - Sahih Muslim Book #007, Hadith #2802 - source http://searchtruth.com hadith search
)
p.s. The Five Pillars Graphic is courtesy of sister Zaza from http://easelandink.forumotion.com
Please adopt it if you like it, Save either on your hard disk by right clicking and ''save as'' - Do not forget to mention us please .