O People of the Book (Scriptures)  

........

يَا أَهْلَ الْكِتَابِ



Come to the Same Word

Surah Al-'Imran 3: 64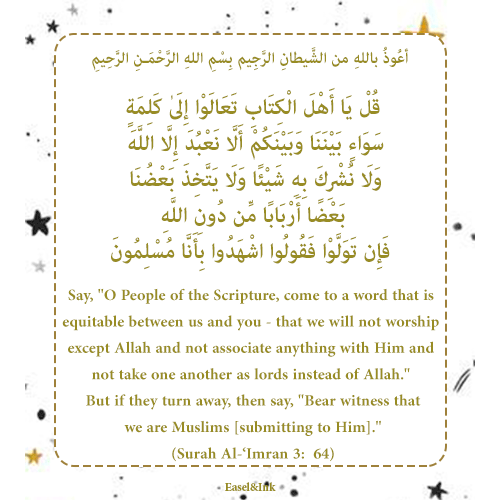 Every Person Knows about Tawhid
This Ayah includes the People of the Book, the Jews and Christians, and those who follow their ways.
Say: "O people of the Scripture! Come to a word'' `Word' - in Arabic - also means a complete sentence, as evident from this Ayah. Allah described this word as being one,
that is the same between us and you,  an honest and righteous word that is fair to both parties. Allah then explained this word,
that we worship none but Allah (Alone), and that we associate no partners with Him, we worship neither a statue, cross, idol, Taghut (false gods), fire or anything else. Rather, we worship Allah Alone without partners, and this is the message of all of Allah's Messengers. Allah said,
And We did not send any Messenger before you but We revealed to him (saying): "None has the right to be worshipped but I (Allah)], so worship Me (Alone and none else).'' [21:25]
and,
And verily, We have sent among every Ummah a Messenger (proclaiming): "Worship Allah (Alone), and avoid (or keep away from) Taghut (all false deities).'' [16:36].  Allah said next,
"and that none of us shall take others as lords besides Allah.'' Ibn Jurayj commented, "We do not obey each other in disobedience to Allah.''
Then, if they turn away, say: "Bear witness that we are Muslims.''  if they abandon this fair call, then let them know that you will remain in Islam as Allah has legislated for you.
Source: Tafsir ibn Kathir (Abridged)