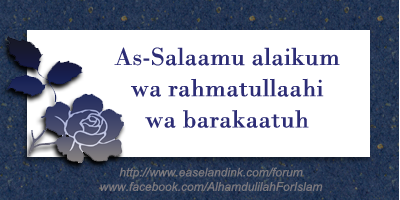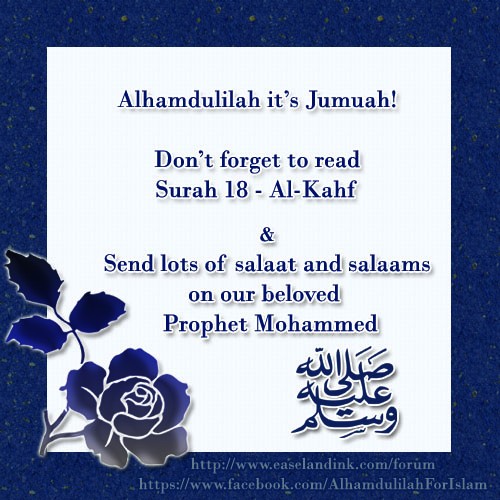 Don't forget to read surah 18 - Al-Kahf (The Cave) this Jumuah inshaAllah.
Yawm Al-Jumu'ah starts from Maghrib (sunset) on Thursday till the end of Asr on Friday.Audio Recitation by: Sheikh Salah Bukhatir
Click on the radio to listen to the recitation or click
here
.
This week's Jumuah Naseehah:
Traps of Iblees
by Ibn al-Qayyim al-Jawziyyah rahimahullaah
from At-Tafseer Al-Qayyim of Shaikh Ibn Al-Qayyim [Al-Hijra magazine]
It is not possible to encompass one of Iblees' evils, let alone all of them. Since Iblees' evil is of six types, Iblees remains behind the son of Adam until he gets him to do one or more of these six evils.
THE FIRST EVIL IS THE EVIL OF KUFR AND SHIRK and enmity to Allâh and His Messenger sallallaahu 'alayhi wa sallam. If he gains this from the son of Adam, his moaning is eased, and he rests from his ordeal with this man. Further, this is the first thing Iblees wants from al-'Abd (the worshipper). If Iblees gains this, he makes this person part of his army, one of his soldiers, and he appoints him as a deputy or agent against other human beings. Then, this person becomes one of the deputies or callers of Iblees.
If he despairs of enticing him with the first evil, and if this person is one of those for whom it was written that he would be a Muslim in his mother's womb, Iblees tries the SECOND CLASS OF EVIL. THIS IS BID'AH (innovation). Iblees loves Bid'ah more than debauchery and disobedience because the harm of Bid'ah is in the essence of the religion. Moreover, it is an unrepentable sin and is against the call of the messengers and is a call to a message different from the one conveyed by Ar-Rasool. Bid'ah is a gate to Kufr and Shirk. Therefore, if Iblees gains the performance of Bid'ah from a person and makes him one of the people of Bid'ah, he also becomes one of his agents and a caller of his.
If Iblees fails and is unable to trap Al-'Abd at this class, and if he is one of those who were granted by Allâh the gift of As-Sunnah and hatred of the people of Bid'ah and error, he proceeds to the THIRD CLASS OF EVIL, which is the class of MAJOR SINS in their various forms.
Continue reading this article
HERE