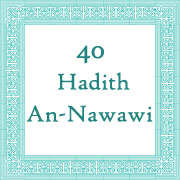 Hadeeth 29 : That which Enters One into Paradise  

  عن معاذ بن جبل رضي الله عنه ، قال : قلت : يا رسول الله ! أخبرني بعمل يدخلني الجنه ويباعدني عن النار ، قال : ( لقد سألت عن عظيم ، وإنه ليسير على من يسره الله عليه : تعبد الله لا تشرك به شيئاَ ، وتقيم الصلاة ، وتؤتي الزكاة ، وتصوم رمضان ، وتحج البيت ) ثم قال : ( ألا أدلك على أبواب الخير ؟: الصوم جنة ، والصدقة تطفىء الخطيئة كما يطفىء الماء النار ، وصلاة الرجل في جوف الليل ) ثم تلا : { تتجافى جنوبهم عن المضاجع } حتى بلغ { يعملون } [ 32 سورة السجدة / الأيتان : 16 و 17 ] ثم قال : ( ألا أخبرك برأس الأمر وعموده وذروة سنامه ؟ ) قلت : بلى يا رسول الله ، قال : ( رأس الأمر الإسلام ، وعموده الصلاة ، وذروة سنامه الجهاد ) ثم قال : ( ألا أخبرك بملا ذلك كله ؟ ) فقلت : بلى يا رسول الله ! فأخذ بلسانه وقال : ( كف عليك هذا )، قلت : يا نبي الله وإنما لمؤاخذون بما نتكلم به ؟ فقال : ( ثكلتك أمك وهل يكب الناس في النار على وجوههم –أو قال : (على مناخرهم )- إلا حصائد ألسنتهم ؟!).
رواه الترمذي [ رقم : 2616 ] وقال : حديث حسن صحيح

On the authority of Mu'aadh bin Jabal (radiAllaahu anhu) who said :
I said : O Messenger of Allaah, tell me of an act which will take me into Paradise and will keep me away from the Hell Fire.
He said : You have asked me about a great matter, yet it is easy for him for whom Allaah makes it easy : Worship Allaah, without associating any partners with Him; establish the Prayer; pay the Zakaah; fast in Ramadaan; and make the Pilgrimage to the House.
Then he said : Shall I not guide you towards the Means of Goodness ? Fasting is a shield; charity wipes away sin as water extinguishes fire; and the Praying of a man in the depths of the Night. Then he recited : "[Those] who forsake their beds, to invoke their Lord in fear and hope, and they spend (charity in Allaah's Cause) out of what We have bestowed on them. No person knows what is kept hidden for them of joy as a reward for what they used to do." [Soorah as-Sajdah, 16-17]
Then he said : Shall I not inform you of the head of the matter, its pillar and its peak ?
I said : Yes, O Messenger of Allaah.
He said : The head of the matter is Islaam, its pillar is the Prayer and its peak is jihaad.
Then he said : Shall I not tell you of the foundation of all of that ?
I said : Yes, O Mesenger of Allaah.
So he took hold of his tongue and said : Restrain this.
I said : O Prophet of Allaah, will we be taken to account for what we say with it ?
He said : May your mother be bereaved of you, O Mu'aadh ! Is there anything that throws people into the Hell Fire upon their faces - or : on their noses - except the harvests of their tongues ?
It was related by at-Tirmidhee, who said it was a good and sound hadeeth.
Explanations of this hadeeth can be found at the following links:
http://fortyhadith.iium.edu.my/
~*~*~*~*~*~*~*~
Audio link for the hadith in Arabic :
If the link doesn't work then see this page:
http://www.kalemat.org/nawawi.php?op=con&id=29
Transliteration of Hadith #29
3a
n muadh 'ibni jabal ra
Dh
iyAllaahu
3a
nhu
q
aal:
q
ultu: yaa RassoolAllaah, a
kh
birni bi
3a
mali(n) yud
kh
iloon il Jannata wa yubaa
3i
dooni
3a
n in-naar.
q
aala:
((la
q
ad sa'alta
3a
n
3aTh
eem wa 'innahu la yaseerun
3a
laa ma(y) yasarahullaahu ta
3a
ala
3a
laih:
t
a3
budullaaha la tushriku bihi shay'aa, wa tu
q
eemu
S
alaata, wa tu'teeya zakaata wa ta
S
oomu Rama
Dh
aan, wa ta
H
ujj ul bayt. thumma
q
aala: 'a laa 'adulluka
3a
la abwaab il
kh
ayr:
a
S
-
S
awmu junnatu, wa
S
ada
q
atu tu
T
ufee 'ul
kh
atee'a kamaa yu
T
ufee ul maa 'un-naar.
wa
S
alaat ul rajul fee jawf il layl, thumma talaa:
(*( tatajaafaa junoobuhum
3a
n il ma
Dh
aaji
3e
e yada
3u
na Rabbahum
kh
awfa wa
T
ama
3a
a wa mimmaa raza
q
anaahum yunfi
q
oon fa laa t
a3
lamu nafsun maa u
kh
fiyaa lahum min
q
urati '
a3
yoon jazaa'am bi maa kaanu y
a3
maloon)*)
thumma
q
aala:
(('alaa 'u
kh
biruka bi ra's il 'amr wa
3a
moodihi wa dhirwati sanaamihi?))
q
ultu:
balaa yaa RasoolAllaah.
q
aala:
(( ra's ul 'amri il Islaam(u) wa
3a
mooduhu u
S
-
S
alaaah, wa dhirwatu sanaamih il jihaad)).
thumma
q
aala:
(( 'alaa 'u
kh
biruka bi milaaki dhaalika kullih?))
fa
q
ultu:
balaa yaa rasoolAllaah, fa 'a
kh
adha bi lisaanihi wa
q
aala:
(( kuffa
3a
laika haadhaa))
q
ultu:
yaa NabiyAllaah, wa 'innaa la mu'aa
kh
adhoon bi maa natakallam bih?
fa
q
aal:
(( thakilatka 'umuka yaa mu
3a
adh, wa hal yakubb un-naasa fee naari
3a
laa wujoohihim - 'aw
q
aala:
3a
laa manaa
kh
irihim - 'llaa
H
aSaa'id ulsinatihim?)).
rawaahul Tirmidhi wa
q
aala:
H
adeethun
H
asanun
S
a
H
ee
H
un.
Purple text between these brackets - (*()*) - Ayah 16 of surah 32 (As-Sajdah)
Hadeeth 30 : The Rights of Allaah ta'aalaa