As-Salaamu alaikum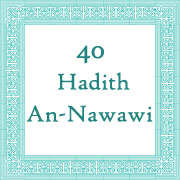 Hadeeth 18 : Good Character  
  عـن أبي ذر جـنـدب بـن جـنـادة ، وأبي عـبد الـرحـمـن معـاذ بـن جـبـل رضي الله عـنهما ، عـن الرسول صلي الله عـليه وسلم ، قـال : ( اتـق الله حيثما كنت ، وأتبع السيئة الحسنة تمحها ، وخالق الناس بخـلـق حـسـن ).
رواه الترمذي [ رقم : 1987 ] وقال : حديث حسن ، وفي بعض النسخ : حسن صحيح

On the authority of Abu Dharr Jundub ibn Junaadah, and Abu 'Abd-ir-Rahmaan Mu'aadh bin Jabal (radiAllaahu anhumaa) that the Messenger of Allaah (sallAllaahu alayhi wa sallam) said :
Have Taqwaa (Fear) of Allaah wherever you may be, and follow up a bad deed with a good deed which will wipe it out, and behave well towards the people.  
It was related by at-Tirmidhee, who said it was a Hasan (Good) Hadeeth, and in some copies it is stated to be a Hasan Saheeh Hadeeth.
Explanations of this hadeeth can be found at the following links:
http://fortyhadith.iium.edu.my/
~*~*~*~*~*~*~*~
Audio link for the hadith in Arabic :
If the link doesn't work then see this page:
http://www.kalemat.org/nawawi.php?op=con&id=18
Transliteration of Hadith #18
3an 'abi dharrin jundubi bin junaada wa 'abi 3abdiraHmaani muadh bini jabalin raDhiyAllahu 3anhumaa 3ar-Rasoolillahi Sal Allahu 3alaihi wa sallama qaal:
(( itaqilaaha haythumaa kunt, wa atbi 3ee sayi'atal Hasanata tamHuhaa, wa khaaliqi naasa bi khulqin Hasan ))
rawaahul tirmidhi wa qaala: Hadeethun Hasanun, wa fee ba3aDhi nusakhi Hasanun SaHeeHun.
Hadeeth 19 : Be Mindful of Allaah and Allaah will Protect You